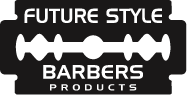 FUTURE STYLE BARBERS ESTABLISHED 2007
Future Style Barbers first opened its doors in Letterkenny, Co Donegal, Ireland in 2007. The Founder Said Ben Salem started his proffesion as a Barber at the age of 13 in Morocco in 1993. In 2003 he arrived in Ireland to continue his journey as a barber and offer his expertese to the people of Donegal.
Where people in need of an upmarket modern barbershop and since then he has established multiple salons.
Each store has a dedicated crew who have been trained by Said and his senior barbers.
We offer you services like different types of hair styles from classic to modern hair cuts, face masking, beard trimming, facial treatment and hot towel shave.